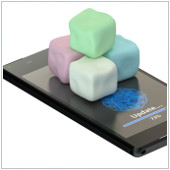 Sorry M&M fans, but the codename Android M doesn't stand for your favorite chocolate after all. Android 6.0, or Android Marshmallow, as it's officially called, was more than just enhancing user experience with Android Lollipop. Although it looks a bit similar to Lollipop by retaining the Material design theme, the new features that come with it are apparently smarter and well, sweeter. We have rounded up a list of new features that you can expect when your tablet finally updates to Android 6.0.
Now on Tap
Google's digital personal assistant is being made more efficient in giving you quick answers and in figuring out what you may want to do next. Now On Tap can be activated by pressing on your tab's home button, which works for both onscreen and the physical button. A short animation or a card will appear that will give you quick information based on the context of what is currently on your screen. For example, you are chatting with a client regarding a new restaurant, Now on Tap can give you directions to the restaurant, its contact information or Yelp review. This deep-linking technology also includes shortcuts to apps on your tablet and is also applicable to voice searches. It's designed in a way that it appears when you need it and disappears so you can resume what you were previously doing.
Android Pay
With the increasing popularity of mobile payment, Google is trying again after the dismal performance of the Google Wallet. The latter is being changed for peer-to-peer payments only, while Google Pay allows you to pay for both in-store and in-app purchases. Google's newest mobile payment system lets you purchase goods from 700,000 participating stores by using your tab's NFC technology. Also, checking out in mobile shopping apps is a walk in the park using Android Pay.
Doze
Don't you just hate it when after a few hours of taking the tablet off the charger, you're left with just 2% battery life? With the Doze mode in Android 6.0, it promises to make your tablet last even longer. This new power-saving feature even uses a lot less power than the current Standby mode. In Doze mode, your tablet hibernates when you put it down for a lengthy period. That means your tab will not be disturbed by power hogging apps, but will still be receiving incoming messages, phone calls and important alarms.
Redesigned App Drawer
Marshmallow comes with a new design for the app drawer – that part in your tablet where all your installed apps are located. A search bar at the top makes it even easier to find an app. Google also remembers your app-opening frequency or periods and can make suggestions on what apps you might want to use. Instead of scrolling left and right, the app drawer now scrolls up or down which is reminiscent of older Android versions.
Android for Work
This may not be a very appealing addition to many but for those who bring their tablet as a BYOD (Bring Your Own Device) device at work, this is definitely sexy. Android Marshmallow improves the way it handles security, notifications, VPNs, access and storage. So much so that one device can be used for both home and work purposes.
Fingerprint API
This update may not be all that apparent, but now your Android tab comes with support for a fingerprint reader. This allows you to unlock your tab and its apps, and also to easily verify payments.
App Permissions
Now you can have greater control over the security and privacy of your tablet by approving permission requests on a need-to-use basis. Previously, these apps required carte blanche permission to look at parts of your tablet you actually didn't want them to. With Android Marshmallow, WhatsApp may not ask for permission to access your photos until you try to take and send one.
However, keep in mind that some apps may not function optimally if you restrict it to resources that it actually needs. Not sure how to proceed when it comes to app permissions? Having problems in updating your tablet's software? Or are you finding it difficult to integrate your BYOD device with technology at work? Get in touch with one of our experts to assist with any of your technology issues.
Published with permission from TechAdvisory.org.
Source.