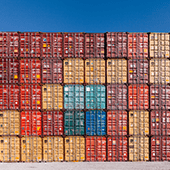 Virtual containers have recently gained prominence with the open-source container platform, Docker. It promises to change the way IT operations are carried out, just like virtualization technology did a few years ago. Read on to know more about this revolutionary breakthrough and how it can help your business.
What are containers and why are they so popular?
Virtual containers are similar to shipping containers, which have made the transport of bulky goods much easier.
Prior to the introduction of containers, virtual workstations and servers granted users access to software and computing power across a local network or the internet. This is what has become known as "cloud computing," as it created entire desktop experiences over the internet.
However, there was room for improvement, as virtual machines are known to take up a lot of system resources.This is because they run a virtual copy of an operating system alongside a virtual copy of all the hardware that the operating system needs to run. Such heavy load on one machine quickly takes up a lot of RAM and CPU cycles, slowing processes down.
Containers improve on the inefficiencies of cloud computing by promising developers that their software will run smoothly, regardless of the type of computer their end users are running.
How do they improve on virtual desktops?
Virtual desktops deliver thousands of applications to meet the needs of your business. These applications also use different languages, databases, and tools. To deploy, configure, manage and deliver these complex machines takes a lot of time and money.
Containers are essentially a better way to package these applications and their components. This technology helps organizations become more consistent and agile by extracting the host's underlying operating system, meaning applications can be packaged with all their dependencies. This in turn, allows developers to choose the right environments and tools that best suit their projects.
As of now, only a few types of software create and deliver containers, with the most popular being Docker. Container technology had been around for a while before the introduction of Docker, but it was complex to implement and manage. With the popularity of virtualization services, software vendors gained resources to develop and offer simple, user-friendly container solutions.
Although containers have improved enterprise computing as a whole, virtual machines have not been made obsolete, and can still be used under certain circumstances. Regardless, both solutions — containers and virtual machines — can repurpose old hardware to utilize software hosted in the cloud. All you need to get started is an internet connection and an experienced IT professional by your side.
Want to maximize your business potential through virtualization and containers but don't have an IT professional to consult? Call us today.
Published with permission from TechAdvisory.org.
Source.