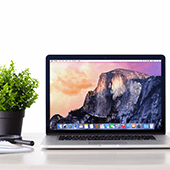 Apple's latest version of the macOS operating system introduced some wonderful new security features. Unfortunately, one of the improvements currently includes a glaring weakness that will show your password to anyone. An update has been released, but there are a few things you need to do.
What is the bug?
The vulnerability pertains to sweeping changes in how macOS stores files. In the High Sierra update, the Apple File System (APFS) was introduced to make opening and saving files much faster. As an added bonus, APFS also added advanced features like drive encryption.
However, users who add a second encrypted APFS partition to their computer's drive aren't keeping their data safe from prying eyes.
Let's imagine you want to create a separate storage partition for your work files. The data contains sensitive information so you encrypt the drive and add a password.
If in the course of setting the password you were to provide a password hint, High Sierra will display your password when anyone clicks Show Hint when accessing the drive. You can see how it's done in this 45-second video.
When anyone can retrieve your password in a matter of seconds, encryption becomes completely pointless.
How to fix this vulnerability
Sadly, the update for encrypted APFS drives requires much more than installing a patch. As such, we do not recommend trying to fix this issue without professional help if your encrypted partition has irreplaceable data. It is a complicated process and could result in data loss.
Apple procedures for fixing the issue if you've already encrypted a drive include:
Installing the most recent macOS update
Backing up the encrypted drive
"Unmounting" and erasing the original drive
Creating a new encrypted APFS drive
Entering a new password and password hint
Restoring the backup from Step 2 to the updated partition
Apple's macOS is a great operating system. It is reliable, secure, and user friendly — but like any piece of software, it's not perfect. Don't make the mistake of assuming macOS is safe enough to protect your data without outside help. For help encrypting your drives or securing your Macs, call us today.
Published with permission from TechAdvisory.org.
Source.