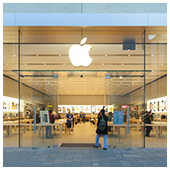 Since late January, Apple has been teasing early adopters with iOS 10.3. Seven beta versions later, Apple has finally released the major update on iPhone, iPad, and iPod Touch devices. Apple seems to have taken the time to iron out the kinks with this update before releasing it to the public, and by the looks of things, it paid off! Here are some of the exciting new features from the update.
Find my AirPods
Since the new wireless headphones are so small and easy to misplace, Apple released the Find my AirPods feature.
To track your AirPods, simply open the Find iPhone app and look for "AirPods" under your list of Apple devices. From there, you can see where your AirPods are located on a map and even make them emit noise, provided you're within a certain radius of the bluetooth earphones.
Siri updates
With iOS 10.3, Apple's digital assistant can now understand and perform more voice requests. With electronic payment apps, you can request Siri to automatically pay bills and track your account status. If you have Uber or other ride hailing apps installed, you can schedule a lift simply by asking Siri, "I need a lift to [location]." You can even check your car's fuel levels and lock status with automaker apps.
Apple Maps
The newly updated Maps can now display hourly weather updates for your destination and even track the location for your parked car, in case you've forgotten where you left it in a crowded lot.
Apple File System (APFS)
One of the biggest changes in iOS 10.3 is the introduction of the APFS, a system that controls how data is stored and retrieved. This new file system replaces the 20-year-old HFS+, which was originally designed for devices with floppy drives! Unlike its predecessors, APFS saves 1-7 GB of storage space, provides better data backups, supports easier file recovery, offers data encryption, and is optimized for Flash/SSD.
Security updates
Meanwhile, iOS 10.3 has received much needed security updates. iPhones and iPads will now actively warn users if they have 32-bit apps installed and request that they update to more secure 64-bit versions.
Additionally, Apple has secured around 100 vulnerabilities, including a bug which allowed cybercriminals to spam Safari users with an endless stream of 'Cannot Open Page' pop-ups unless they pay the attacker an iTunes gift card.
Although iOS 10.3 didn't offer any revolutionary built-in applications, it did make some nice quality-of-life adjustments for iPhone 5, 6, 7, and iPad users. Knowing Apple, we think more optimizations will be rolled out until the big iOS 11 update, but until then take the time to enjoy more storage space, better security, and the new Siri voice commands.
If you want the latest Apple developments, contact us today to be the first to know!
Published with permission from TechAdvisory.org.
Source.