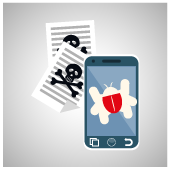 Although iPhone bugs and malware are typically unheard of, there's one circulating the web that you should be aware of right now. The bug, which was discovered in Reddit, is a brief, five-second video that when played causes your iPhone to freeze and ultimately crash. So far the malicious video's intentions are still unknown, but this trap can be easily avoided.
What is the video?
As mentioned, the MP4 video initially seems innocuous enough. It portrays a man standing by a bed with the word "honey" across the screen. After one or two minutes of viewing the video, the affected iPhone becomes sluggish. It then freezes and becomes unresponsive, ultimately requiring a reset.
It appears that the bug takes advantage of a flaw within iOS memory management. The corrupted video generates a loop that causes the affected Apple device to use more memory, leading to a temporary crash.
Reports have shown that the MP4 is hosted on a video-sharing site, Miaopai. Since then, the video has been distributed in other social media platforms, online forums, and, more commonly, as a link via iMessage.
Tests have also found that the video effects the latest iOS version (iOS 10.1 and 10.2) all the way to iOS 5. So far, the bug doesn't seem to affect other non iOS products. But regardless, all users should be careful of the video.
Although this video's effects may seem worrying, there is a fix to the problems caused by the corrupt clip.
How to perform a hard restart
The only way to recover from the crash is to do perform a hard restart. To do this, you simply have to hold down the power button and home button for a few seconds.
As for the iPhone 7, all you need to do is hold the power button and volume decrease buttons simultaneously to force a reset. In both cases, just hold the buttons until the Apple logo appears, and your device should restart normally.
Always be careful
Even though it's easy enough to fix, it's probably best to avoid the crash bug altogether. Soon, Apple will introduce a new security patch for this vulnerability, but until the update is released, you should avoid clicking on suspicious MP4 video links no matter what platform you use.
And this is the same for other videos, URLs, photos, emails, and websites you encounter on the web. When it comes to traversing online worlds, it's imperative to develop a critical mindset for everything you see in the internet. While this particular bug only slows down your Apple device, you might not be so lucky the next time you unwittingly click on an unknown iMessage link or email attachment.
If there's any lesson we can learn here, it's that you can't be complacent no matter how secure Apple platforms may be. Want to protect your Apple device from future security incidents like these? Contact us today, and we'll provide you with sound advice and security solutions to nip these problems in the bud.
Published with permission from TechAdvisory.org.
Source.