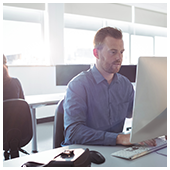 VMWorld 2016 just wrapped up and developers are rolling out the new version of vSphere 6.5, complete with plenty of upgraded features to make your business life easier. The updated version includes new security and installation features as well as a simplified user experience. Find out about the new updates and how they can help you.
More simplified experience
A program that is easier for the non-technical business owner to use is a definite plus. Developers changed the user interface to highlight options in a more logical way. Workspaces are wider and allow instant feedback options for teams working on important projects. It is also easier to install and run programs, since the majority of vSphere 6.5 versions use HTML5 instead of the cumbersome Flash-run interface.
Built-in security
Security is a high-ticket concern for any virtual collaboration, and vSphere 6.5 offers a number of safety-conscious features to keep your business safe. First is the Secure Boot, which allows you to keep unauthorized programs from being loaded into your virtual space. It is particularly helpful because it keeps guest users from loading harmful programs that could affect your business. In addition to the secure booting capabilities, the vSphere 6.5 also ensures that virtual machines are encrypted at rest and as data travels between systems.
Universal app platform
The new vSphere 6.5 features a universality that many older versions just couldn't handle. Not only can you use this program with the major operating systems (Linux, Mac, Windows), you can back up and update your system on the same server instead of moving it to a third-party server that may or may not be trustworthy. You can also create a workload and deploy it across one platform so it is easy to access and modify if necessary.
The new features contained within vSphere 6.5 will change the way you see the virtualization experience all around. As long as the program continues to be updated for easier use by "common" employees and business owners, vSphere's popularity and that of other hypervisor programs will continue to climb. Call us to learn more about how you can use vSphere 6.5 within your business.
Published with permission from TechAdvisory.org.
Source.