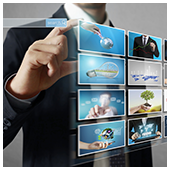 Business owners always look for ways to integrate and streamline business operations to make them cost-effective, efficient, and easy to follow. This includes computing and technology use. vSpace Pro 10 has been introduced as a way to simplify the virtual desktop infrastructure that so many businesses rely upon. If you are a business owner wondering whether vSpace Pro 10 is right for you, learn more about vSpace Pro 10 and how it works so that you can better choose the right virtual desktop platform for you and your business.
The traditional way companies make it possible for multiple employees to use company and business systems is to provide all users with their own copy of Windows so they can install the program separately on their machines. However, this can be quite cumbersome. If a patch is required for Windows, each account will need to be individually accessed and updated. This can also be expensive for businesses, as they will need to purchase individual copies of Windows and other software.
The idea behind vSpace Pro 10 is to do away with this expensive and sometimes inefficient type of virtual desktop system. vSpace Pro 10 requires a company to purchase only one copy of Windows, which is housed on what is known as a host server. Only the virtual desktop will then be customized for an individual user.
There are many reasons this can benefit a business. First of all, the maintenance costs, time, and effort will be significantly reduced because you will deal only with one copy of Windows rather than several. The initial system costs will also be much lower than alternative options.
You could also potentially save on your energy bills, as you would need to operate fewer machines at once by hosting the core operating system and multiple virtual desktops in a single central location. The best thing about vSpace Pro 10 is how simple and easy it is to use and to operate once installed, and the initial costs and installation process are simple as well. The streamlined nature and efficiency of vSpace Pro 10 make it one of the best virtual desktop platforms available for businesses today. If you would like to know more or want to get started, contact us as soon as possible.
Published with permission from TechAdvisory.org.
Source.