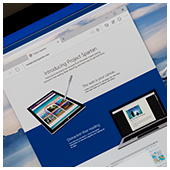 Microsoft has found a way to incorporate virtualization protocols into the security of its Edge browser. With the protection of internet browsing inside a virtual container, hackers have a harder time exploiting unsuspecting web users. Read on to discover whether this development will compel you to switch internet browsers in your office.
Browsers are one of the most popular avenues for cyber-criminals to deliver their wares, and new security measures by Microsoft set out to reduce that risk significantly. In a first for internet browsers, Microsoft has burnt any potential bridges between malware and PC hard-drives. The new and virtualized Edge is only available for Windows 10, and administrators will be required to choose what runs inside, and outside of the container.
When enabled, malware cannot gain access to anything outside of the Edge browser. Think of it like reheating your leftover lasagna inside a covered container; when that gooey mozzarella tries to muck up the walls of your microwave, your tupperware ensures it stays clean. So in our case, the cheese is malware, and even if you download malware from an untrusted site, it cannot reach beyond the container that Edge uses to protect your files.
According to tests run by Microsoft, the Edge browser has the lowest chances of malware infection when compared to other browsers running on Windows. And that means a lot when you consider that when it comes to cyber-attacks, the default Windows browser is always the first target.
In addition to creating containers for limiting the exposure of workstations, any malicious data is deleted by resetting the virtual space after users are done with it — not unlike tossing your dirty tupperware into the dishwasher after reheating last night's saucy noodle goodness. Permanent cookies aren't kept after the reset, and it's impossible for malware to continue running without a space to do so. Every new session starts with a clear, clean browser.
For those new to the virtualization game, it may seem like running Edge in this environment could slow down the machine. But Microsoft has guaranteed a cutting-edge, extremely light burden when enabling the service. When your organization is looking for virtualization services, from creating all your desktops in a virtual, internet-based space, to simply making your browsing more secure with virtual Edge browsers — there's only one team to call. Pick up the phone and dial us today. You're a short consultation away from a cheaper, safer IT infrastructure.
Published with permission from TechAdvisory.org.
Source.