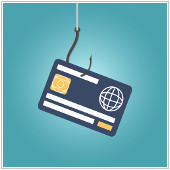 As the spectacle and competitive atmosphere of the Rio Olympic Games have drawn the world's attention, hackers who use social engineering are inching closer to our private information. Although our systems may be prepared for the likes of malware and worms, social engineering is a different beast of its own. If used effectively, hackers can manipulate people into disclosing personal information, rendering security systems useless. So how exactly do they go about doing this? Below are five of the most utilized social engineering tactics you should be aware of.
Phishing
Phishing scams are perhaps the most common type of social engineering attack. Usually seen as links embedded in email messages, these scams lead potential victims into seemingly trustworthy web pages, where they are prompted to fill in their name, address, login information, social security number, and credit card number.
Phishing emails often appear to come from reputable sources, which makes the embedded link even more compelling to click on. Sometimes phishing emails masquerade as government agencies urging you to fill up a personal survey, and other times phishing scams pose as false banking sites. In fact earlier this year, fraudulent Olympics-themed emails redirected potential victims to fake ticketing services, where they would eventually input their personal and financial information. This led to several cases of stolen identities.
Tailgating
What's the best way to infiltrate your business? Through your office's front door, of course! Scam artists can simply befriend an employee near the entrance of the building and ask them to hold the door, thereby gaining access into a restricted area. From here, they can steal valuable company secrets and wreak havoc on your IT infrastructure. Though larger enterprises with sophisticated surveillance systems are prepared for these attacks, small- to mid-sized companies are less so.
Quid pro quo
Similar to phishing, quid pro quo attacks offer appealing services or goods in exchange for highly sensitive information. For example, an attacker may offer potential targets free tickets to attend the Olympic games in exchange for their login credentials. Chances are if the offer sounds too good to be true, it probably is.
Pretexting
Pretexting is another form of social engineering whereby an attacker fabricates a scenario to convince a potential victim into providing access to sensitive data and systems. These types of attacks involve scammers who request personal information from their targets in order to verify their identity. Attackers will usually impersonate co-workers, police, tax authorities, or IT auditors in order to gain their targets' trust and trick them into divulging company secrets.
The unfortunate reality is that fraudsters and their social engineering tactics are becoming more sophisticated. And with the Olympics underway, individuals and businesses alike should prepare for the oncoming wave of social engineering attacks that threaten our sensitive information. Nevertheless, the best way to avoid these scams is knowing what they are and being critical of every email, pop-up ad, and embedded link that you encounter in the internet.
To find out how you can further protect your business from social engineering attacks, contact us today.
Published with permission from TechAdvisory.org.
Source.