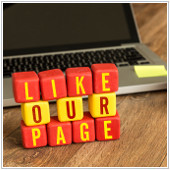 Considering the most recent stats of Facebook's daily usage — an astounding 1 billion daily mobile users, to be exact — it's time to take another look at your company's page. Even if you're actively managing your page, changes and updates are so frequent at the social media colossus that there's likely a feature or opportunity you've missed. Let's explore six of our favorite ways to better engage with prospective customers through Facebook.
Use video whenever possible
Recently, Mr. Zuckerberg himself was caught opining about the value of video in social media. And while there hasn't yet been any news about newsfeed algorithms giving preference to video, it's definitely a safe bet when compared to texts and graphics. Facebook Live is an excellent way to engage your subscribers, and there are several ways to leverage it for increased profitability. Whether it's an Ask Me Anything segment or a promotional announcement, hit that record button more often for more engagement.
Facebook only promos
While we're on the topic of promotions, make sure you're creating some that are only available through Facebook. If you're simply reposting those from your website or e-commerce store, it's harder for followers to justify maintaining any interest in your page. Use Facebook Live or a pre-recorded video to introduce a better-than-usual discount on your products or services. The key here is getting customers to actually visit your page, so make sure it's not a coupon code or a link they can just pass on to friends. Ask the first 100 viewers to post their email address in the comments section of the video. If their increased dwelling time doesn't make a lasting impression on them, it probably will make an impression on their Facebook newsfeed algorithm.
Facebook CTAs: use them and update them
Unbeknownst to most, the 'call to action' button on your business page can be edited to display more than a dozen different messages. Experiment with the different messages and where they link to. You've probably stared at the CTAs on your .com page for hours, hoping to come up with a hard-hitting sell — why wouldn't you do the same on Facebook?
Don't just link to yourself
The most insightful page will always be the most valuable one. If someone has already liked your page, they know you exist and they have a decent idea of what you sell. Make sure to take a break from posting links to your site, and include relevant news and information that relates to your field. If your merchandise is videogames, inventory updates aren't going to provide much value to your followers. Post third-party reviews of items you stock or industry news that readers will find interesting.
Pin to top function
When you find the post that keeps followers coming back for more, why bury it beneath more recent and less popular posts? Click the arrow in the upper-right corner of the post and select Pin to Top. This will keep it above everything else and impossible to miss for anyone visiting your page. It could be anything we've already discussed in this article: promotions, videos, popular third-party content — anything timely and relevant.
Be personal
Lastly, use your company's Facebook page as a place where followers can engage you on a personal level. There are countless opportunities for stiff, formal business language and attitudes, but social media isn't the place for that. Post fun, behind-the-scenes photos of your business, respond to comments in a conversational tone, make jokes — anything that sets your page apart from your customer service accounts.
Facebook may be free, but that doesn't mean a profitable page is a walk in the park. For all the latest tips, trends, and features, you'll need an expert. Exploiting social media for your bottom line is a slippery game, but it's one we play every day. For a partner who can turn your 'Likes' into dollars, contact us today.
Published with permission from TechAdvisory.org.
Source.