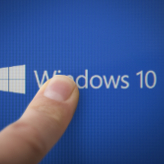 Although Windows 10 comes with many exciting new features, accompanying them are complaints from the users: from shrinking storage space to the absence of the System Restore function. But fret not, we have listed the solutions for the most frequent Windows 10 problems.
1. Decreased storage space
You might not be aware that after the upgrade to Windows 10, the old version of Windows isn't deleted but is kept in the C:/ drive by the name of windows.old, which eats up a huge chunk of your disk space. Microsoft makes it this way just in case you change your mind and want to go back to your previous version. However, if you're sure you want to permanently delete it, just follow these steps:
Click the Windows Start button and search for the Disk Cleanup app by typing cleanup. The drive selection box will appear, choose the drive your OS is installed on (the default drive is C:/drive), then wait for Windows to scan your system. Afterward, a box will pop up.
At this point, the system might present you with a list of files to delete, but if that's not visible, select the Clean up system files option on the bottom left of the window. Windows will then present you with another box with the option to delete Previous Windows Installation(s). Tick the option and click OK, then click Delete Files to confirm your decision.
2. Updates that don't work
First off, check if you've upgraded to the Windows 10 Fall update. If the problems still occur, download and run the Windows Update Troubleshooter, then restart the system and try to update again.
If that still doesn't work, check that System Restore is configured (see number 3 below) and create a restore point. Type Window+X and select Command Prompt (Admin), type net stop wuauserv and hit Enter, then type net stop bits and Enter. Then open Explorer, go to C:WindowsSoftwareDistribution and delete its contents including any sub-folders. Restart your PC, open Windows Update and click Check for updates.
3. System Restore isn't enabled
In Windows 10, the System Restore isn't enabled by default. To turn it on, go to the Start Menu and search for Create a restore point. The System Properties box will appear. From there, choose the system drive and click the Configure button, then select Turn on system protection. Use the slider to set an appropriate amount of maximum disk space (about 5GB should be enough). Note that the update to Windows 10 version 10586 turns this off again so make sure to turn it back on after you update.
4. Privacy violations
Windows 10 faces a lot of criticism over its data-sharing defaults. We recommend you review them from time to time. To change the privacy settings, go to the Start Menu and go to Settings, open the app and select Privacy. At this point, you'll see on the left-hand side a list of data such as your computer's camera, microphone, account information and so on. Turn off the ones that you don't want Windows to have access to.
If you use Windows Defender, click the back arrow, select Update & Security, then select Windows Defender, see if you're ok with the default setting that enables Cloud-based detection and Automatic sample submission.
Another privacy issue is Window Wi-Fi Sense, which is initially designed to get you connected to wireless networks more quickly. But if you're not comfortable with the idea of sharing your network's wireless credentials among devices you can't control, you can go to Start > Settings > Network & Internet, then click Manage Wi-Fi settings in the right of the window, tick all of the boxes under For networks I select, share them with my to disable Wi-Fi sense.
5. Windows 10 uses up all the 4G data
Windows 10 uses your internet bandwidth in the background. Follow these steps to stop it from consuming all your cellular data without you knowing: go to Settings and then Network & Internet, select Wi-Fi and then Advanced Options, turn on Set as metered connection. Note that this tip won't work if your PC connects to the internet via Ethernet.
6. There's no DVD player app
Strangely, Windows 10 was launched without a DVD player app, which means you can't watch films on your PC. However, if you upgrade to Windows 10 from Windows 7 Home Premium, Windows 7 Professional, Windows 7 Ultimate, Windows 8 with Windows Media Center or Windows 8.1 with Windows Media Center, you'll find a late released DVD app from Microsoft in Window Store for free download. But if you're not one of the lucky users mentioned above, we recommend you to download VLC Media Player instead. It's free!
We hope these 6 fixes will help smoothen your experience with Windows 10. But while there are some issues you can cover by yourself, others are more complicated and would better be handled by IT experts. Why not call us today? Our staff is here to eliminate your Windows 10 headaches.
Published with permission from TechAdvisory.org.
Source.