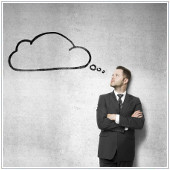 Not every business owner who migrates to the cloud achieves great results. As much as the service is touted with words like "freedom", "productivity" and "collaboration", realizing the full benefits of these words is not a given. So if you're thinking about transitioning to the cloud, how can you ensure you optimize the technology for your business? Well, it all starts with your attitude before migration. Here are some mental-shifts you should make before getting started.
Consider cloud value over costs
When considering the cloud, too many business owners get hung up on costs. Instead, it makes more sense to think about how the cloud impacts their business and saves them money. The old saying, "you have to spend money to make money" is ever so true here. And as a business owner, the cloud is no different than any other investment you took to grow your organization. That's why you should remember the cloud provides you value, such as the ability to work anytime, anywhere, and easier collaboration.
And of course, you shouldn't just think of how the cloud benefits yourself, but also your IT managers and staff. In fact, before migrating to the cloud, why not go ahead and ask your IT leaders just how the cloud will benefit your business? They'll likely mention how it can boost the productivity levels of all your employees, while making everyone's job easier.
Think "strategy" before migration
Once you've considered the value the cloud provides, you'll likely have some ideas of what goals you'll want it to accomplish at your business. If you haven't, now is the time to do so – before signing up for the service. Let's say for example, you want to gain the productivity benefits of your staff being able to work from anywhere at anytime. How can you do this? When you roll out the cloud in your company, have the specific goal of increasing mobile use or adoption among employees. Talk with your IT leaders to devise a plan they can implement.
When it comes to your other cloud goals, clearly define them beforehand and then talk with your IT staff to come up with the nuts and bolts plan to accomplish that goal. By doing this, you'll achieve much better results with your cloud service.
Learn to love the quickly evolving nature of the cloud
As the cloud is still a new technology, it is rapidly changing. New updates, features and enhancements are rolled out regularly, and if you want to get the most out of your cloud it's best to keep up. Of course, this is a scary idea for many business owners and IT managers alike as the old way of doing things is rolling out new features and apps over long periods of time.
Some cloud services make it easier than ever to keep up with changes. Let's take Office 365 for example. Adding users and implementing new changes can take mere minutes. Yes, it may be scary to do so, but remember, Microsoft and your IT managers are in your corner – they are there to support you. Of course, you may still have some bad memories from updating your legacy technology. Let us assure you, updates to Office 365 are nothing like this and require a small learning curve. Most new features are intuitive by nature, making adjustment to these changes painless and problem-free.
One of the best ways to assure your cloud updates go as smoothly as possible is to have an IT leader who's enthusiastic about the technology be responsible for managing it. A cloud enthusiast is much more likely to be up-to-date on the newest features and enhancements and can quickly share with you whether or not an update will benefit your business.
When it comes to cloud migration for your business, it's pretty much an all or nothing decision (unless of course you go with virtualization, which is a different topic altogether). The cloud will become an integral part of your business, and you and all of your staff will interact with it on a daily basis. So be prepared for a big transition and a big payoff of higher productivity and connectivity for you and your staff.
Are you ready to embrace the cloud with a solution like Office 365? Give us a call, and talk with us about a cloud migration today.
Published with permission from TechAdvisory.org.
Source.