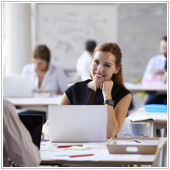 Look inside many businesses these days and there is an Office 365 powering up its operations. Chances are, your business also makes use of this cloud platform. But do you know which apps will best boost your business's productivity and which ones don't? And with one or two updates and new apps released quite so often, it makes app choices even more complicated. Worry no more. This article will help you maneuver the complicated decision-making on app downloads.
When an enterprise purchases certain Microsoft Online services such as Office 365, there is usually a Microsoft Partner of Record that is linked to the enterprise account. One of those is MessageOps. According to Chris Pyle, CEO of MessageOps, based on the data and feedback that they have gathered from Office 365 customers, they have concluded that not all business owners understand the true power of Office 365 and know which apps are most useful. Below is the list of apps that are must-haves for the businesses of today:
1. Sway
Although still in its early stages, one app that is quickly becoming popular is Sway. This is a presentation program that is being used for website creation where users can fuse together text and media. This program, which is included in the Microsoft Office app arsenal, is widely gaining popularity among the business owners and employees who've taken it up.
2. OneDrive for Business
If you're familiar with Dropbox, then you probably know how OneDrive for Business works. It is a single location where users can save, sync, and share their files anytime, anywhere. Some businesses use this together with Dropbox, which is a paid app. Businesses that do this essentially double their cost as they are already paying for the same functionality as OneDrive, an app that is already included in most Office 365 plans.
3. Skype for Business
Hard to believe but there are still a lot of enterprises who pay for additional meeting and communication solutions that they have already paid for with Skype for Business. This app, which is already included in many Office 365 plans, goes beyond meeting and call purposes. It can also let you know which of your contacts is currently online, and you can also launch communications from Word and Powerpoint. What's more, your communication is kept safe with the use of encryption and authentication processes.
4. Office 365 Groups
This app is very much popular with enterprises that require sharing of ideas from a group working on a project. It provides for a single place where the group can share documents, communication, and notes. This is predicted to become a complete replacement for SharePoint team sites as it is more user-friendly, more manageable and can be set up easily, although it is just as functional as SharePoint.
5. Intranets
With the help of SharePoint Online, intranets are making a comeback. The SharePoint intranet not only enhances communication and collaboration in the office, but the end-result is an effective streamlining and organized storage of information.
Harness the power of the Office 365 in your business. We have experts on standby anticipating your every question and ready to help you with the setting up, maintenance and management of your IT infrastructure. Give us a call.
Published with permission from TechAdvisory.org.
Source.