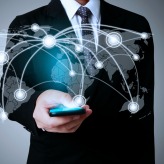 Windows Phone has many useful features that appeal to business users, including the ability to make business presentations easier, increase productivity, and control devices remotely. But with over 600,000 apps in the Windows Phone Store, it can be hard to determine which ones deserve a place on your device. That's why we've compiled a list of powerful business apps that you won't want to be missing from your Windows Phone device.
Box
As the name implies, Box is an application that handles all of your file storage needs. The free version gives you 10GB free storage and supports over 100 file formats, including Word, Excel, PDF, PSD, and more. Box makes it easy for you to securely store, manage, and work with all of your files and documents whenever and wherever you are, whether it's from your desktop, smartphone, or tablet.
GMaps+
While many smartphone users are familiar with the famous Google Maps application, it is not available on the Windows Phone platform. But GMaps+ is a great alternative, offering users a complete Google Maps experience with many additional features, including a revamped design, 3D maps and 3D compass mode, live traffic conditions, the ability to view directions through third-party apps such as Waze and Nokia Drive, and so much more.
LastPass
Do you have trouble trying to memorize all the passwords for your various online services and email accounts? Then LastPass can be a real lifesaver, with its ability to securely store access credentials on your Windows Phone. LastPass features multi-factor authentication, password generation, and password sync. The only password you have to remember is LastPass's master password, because it will fill your account IDs and passwords for you.
CamScanner
The CamScanner app essentially transforms your Windows Phone into a portable scanner, allowing you to scan, store, sync, and collaborate on paper documents, bills, receipts, physical business cards, and more. Recognized as the industry's most powerful document scanning and sharing app, CamScanner truly makes digitizing physical documents as easy as opening the app and taking a picture.
Time Stamp
Time Stamp is a powerful work time tracker app that has an intuitive user interface and is rich in functionality. It allows you to track your work time in just two taps on your Windows Phone device. Time Stamp's detailed reports show your daily, weekly, monthly, and yearly work time accrual. You can also use Time Stamp to track overtime work, record public holidays and leave days, and export data in Excel format.
Zoho Expense
For many companies, expense reporting and reimbursement processes come with many challenges, such as lost receipts, long processing times, and violations of expense policies. With Zoho Expense, you can easily automate business and travel expense management, dramatically reducing the time required to record receipts and prepare expense reports by digitizing your papers. Zoho Expense is ideal for sales reps, managers, and finance departments.
Want to learn how to implement Windows Phone into your business? Contact us today – we're sure we can help.
Published with permission from TechAdvisory.org.
Source.