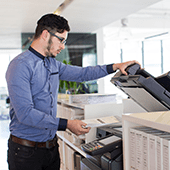 Your growing printing expenditures may be the result of an over-dependence on paper files, the lack of an effective printing workflow, or obsolete printers. With some fresh ideas, clever problem-solving, and the following tips, you could significantly cut down your printing budget.
Replace outdated printers
Your outdated and cheap printers may meet the absolute minimum requirements, but they're taking a bit out of your IT budget.
Any piece of equipment that is five years old (or older) requires frequent repairs and causes more trouble than it's worth. Because old printers are no longer under warranty, fixing them is costly and challenging. It's also difficult to find replacement parts for old printers because manufacturers have stopped carrying them.
When you replace outdated equipment with newer, multi-functional upgrades, you're investing in hardware that will pay for itself with increases in productivity and efficiency.
Avoid purchasing unnecessary supplies
A poorly managed printer environment will result in a stockpile of cartridges, toners, and reams of paper. This happens when, for example, an employee mistakes a basic malfunction for a lack of ink and then makes an unnecessary supply request. This is more common than you may think, and definitely more expensive.
In the absence of a dedicated printer manager, you can avoid this situation by automating supply replacement. Assign a point person to proactively place orders when supplies are about to run out, so one person is accountable for avoiding needless orders.
Impose strict process workflows
Submitting expense reports, filing trip reimbursements, and other administrative tasks require a proper document workflow. Without proper guidelines, employees and administrative staff end up printing unnecessary documents.
Automate your company's document-driven processes to reduce or prevent redundant print jobs that result in stacks of abandoned documents. These print jobs aren't just wasteful, they're also a security and privacy concern.
Go paperless
Designing a document management solution that reduces paper consumption is an effective way to save money. It may not be possible in every department, but those who can do their jobs without printing should be either forced or incentivized to do so. Printing lengthy email chains that can be discussed in a meeting is just one example of a wasteful practice that should be avoided.
Reduce IT support calls for printing issues
Calling on an in-house IT technician to assist with problems like paper jams, printer Wi-Fi issues, and other concerns probably does more harm than good. You and your IT personnel could avoid dealing with these productivity killers by identifying the problem areas of your print environment. Then, you can work on solutions specific to your office, such as drafting a printing workflow or getting help from document management experts who can recommend time- and budget-saving solutions.
Partnering with experts to manage your IT workflow will make your day-to-day operations more efficient and save money on printing costs. Our experts will gladly recommend best practices and tips on document management. Call us today.
Published with permission from TechAdvisory.org.
Source.