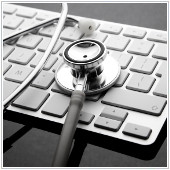 If the primary focus of your healthcare practice is delivering high-quality patient care, then cloud computing is an essential tool for you. It is more reliable, convenient, and secure than offline solutions, which means it should be a top priority.
Easy information access
The increasing demand for doctors' time means they have less time to review patient records. In the past, doctors had to either lug around reams of documents or spend hours at their desktop computer. But with cloud software for managing electronic medical records (EMR), doctors can conveniently access medical records from anywhere, at any time.
HIPAA Compliance
The Health Insurance Portability and Accountability Act (HIPAA) is frustrating for medical practitioners who feel overburdened by rules and regulations. But without HIPAA, patient privacy is in jeopardy, so what can you do?
Regardless of whether you use a browser-based tool or a mobile app, cloud computing makes it easy to adapt to regulatory updates and changes. For example, if a vendor wanted to update its data encryption standards, it could do so in the cloud and the changes would automatically reflect on all accounts and devices — no new installs or configuration necessary!
Cost reduction
This type of IT also eliminates the need for on-site hardware, maintenance fees, and expensive one-time software licenses. In terms of less quantifiable cost reductions, the ability to access work from anywhere at any time boosts productivity and enables your IT department to be dramatically more efficient.
Scalability
Unlike in-office computer hardware, you can scale cloud storage solutions in a matter of minutes. Beyond the benefit of organizational simplicity, just imagine how much office space you need to store five years' worth of healthcare records. Web-based EMR software gives you more storage than you can ever need and retrieves records in mere seconds.
Better data backup and recovery
Data loss is a real problem for healthcare practices. Will your business continuity be safe if your office suddenly becomes inaccessible? Even a couple of days of downtime can have serious repercussions for your reputation. Practices that store their files in the cloud don't have to worry about this because nearly every solution stores files in more than one location so backups can be restored quickly if anything goes wrong.
Want to learn more about which cloud computing solutions will be best for your practice? Get in touch with one of our tech experts today for personalized recommendations.
Published with permission from TechAdvisory.org.
Source.