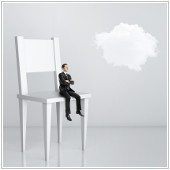 It's an amazing time to start a business — not only can you take your ideas more quickly to the market, you can do so at lower costs and without the traditional barriers in hiring skilled workers. Talented contractors are now available via the "human cloud" and are ready to help you build and operate your company. Here's how your small – or medium-sized business (SMB) can gain from it.
Foundr Magazine's Editor-in-Chief and Publisher Nathan Chan started a 'passion project' that led him to interview some of the most influential entrepreneurs around the world, which he shared through his monthly digital publication.
For Mr. Chan, the launch of this successful project would not have been possible if it wasn't for human cloud service Elance, a freelancing platform that allowed him to leverage overseas talent and build a solid team of graphic designers, audio/video editors, and writers. All tasks and projects for each issue of his magazine are run via the platform, which also conveniently processes payments for his contractors.
Just like Mr. Chan, many business owners are shifting their labor sources from local to global. According to an online survey by social project manager Wrike, close to 44% of business owners predict a rapid shift to distributed teams within their companies.
They believe technology makes their virtual teams just as efficient as if their members were collaborating in one office. Remote collaboration via the human cloud is indeed a game-changer that benefits companies, such as startups, that are inclined to spend fewer resources to build their business infrastructure.
What is the "human cloud?"
The human cloud is a working platform where staff performs white-collar tasks from any location and on any device. Collaboration, file sharing, or discussions on projects are done in a flexible and productive manner, rewarding team members solely for their output. Although having a virtual workforce comes with a few challenges, overcoming them can yield great benefits for SMBs.
Benefits of hiring on the human cloud
Low cost – The human cloud helps save time and money spent on traditional employment processes. Hiring is fast and easy; you pay for the skills you need on a transactional basis, as opposed to paying a high monthly wage on physically hired talent who may have too much idle time.
No overhead – Hiring on the human cloud requires no overhead for office space, thereby enabling firms to stay lean and profit-focused. By becoming "virtual," teams can work independently from their homes or anywhere.
Get skills on-demand – Employers can contract for micro-tasks, such as copying text from business cards, to larger tasks like selling products for a fee, to even more complex projects such as software design and programming.
Global talent pool – Today, even startups can be 'multinational', i.e., they are no longer limited by geography in finding key talent with specialized skills. A good idea can come from just about anywhere and can be performed and delivered from anywhere.
Easy collaboration – Using an online platform gives SMBs the ability to manage projects through virtual workrooms. Wrike's survey revealed that collaboration software is extremely important and even mission-critical for remote teams to work efficiently.
As more startups and SMBs become familiar (and comfortable) with the advantages of the human cloud, the future of work means that location is not the most important factor in determining who will contribute to your business's success. A worldwide network of online contractors is now ready to serve you with the qualifications, skill sets, and shared enthusiasm you seek to turn ideas into valuable products or services.
For more information on how to leverage cloud technologies or collaboration software, please get in touch with any of our cloud specialists.
Published with permission from TechAdvisory.org.
Source.