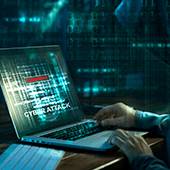 Macs may be heralded as more secure than their competitors, but they too can be hacked. Malicious programs that appear like harmless files or apps can infect your computer and cause it to slow down to a crawl. If this ever happens, you must be able to remove the malware quickly before the infection gets worse.
Minimize the threat
Containment is the top priority when your Mac is hit with malware. The first thing you should do is to disconnect your device from the internet to prevent malware from spreading and making it vulnerable to hackers.
Then, reboot your computer in safe mode (hold the Shift key when the Apple logo appears) so you can run only mission-critical programs while you resolve the issue. Since most files aren't active in safe mode, malicious programs are easier to remove. You should also open Activity Monitor, which can be found in the Utilities folder, to disable any non-essential apps.
Even if you are in safe mode, assume that your activities are being monitored by cybercriminals. Log out of any applications and don't type any passwords in case a hidden keylogger or spyware program is running in the background to steal sensitive information.
Scan and remove
Once you've contained the threat, update your anti-malware program and run a full system scan. This ensures your security software has the latest malware definitions to identify and remove the most recent threats. But if there are suspicious applications your anti-malware program failed to detect, you can always uninstall them manually like how you would with other software. Contact an IT expert if you're unsure whether a program is safe to remove.
Malware may also add unwanted toolbars, display persistent ads, and redirect you to a dangerous homepage. In such cases, you'll need to clean your browser. For Safari, click Safari from the menu bar, go to Preferences, and remove unwanted plug-ins and extensions. On Chrome, click Chrome from the menu bar and select Preferences > Advanced > Restore settings to their original defaults.
Consider a factory reset
If none of the methods above worked, the only way to clear the malware infection is to factory reset your operating system. To do this, hold down Command+R to enter Recovery Mode, wipe the hard drive with Disk Utility, and reinstall macOS. Keep in mind that this will wipe apps and files stored on your device, so back up everything beforehand.
Fortify your defenses
Your computer won't stay malware-free for long unless you're proactively protecting it. Make sure to update your applications and security software regularly to defend against the latest malware strains and cyberattacks. You should also implement preventive measures like advanced threat prevention systems and firewalls, which stop malware in its tracks.
Backups are another important solution for dealing with malware. An easy way to start using this technology is to enable Apple's built-in backup solution, Time Machine, and store everything in an external drive. The feature can make hourly, daily, and weekly backups, letting you restore your computer to the point before it was infected with malware.
If any of this sounds too technical for you, don't worry. Our cybersecurity specialists can help you remove malware without any complications. We'll even throw in proactive security monitoring services to ensure your Mac steers clear of cyberthreats. Call us now.
Published with permission from TechAdvisory.org.
Source.