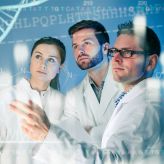 Wearable technology seems like something out of a Hollywood sci-fi movie. And mobile apps are not too far behind when it comes to converging human and artificial intelligence. The good thing is that these two are great examples of how today's technology has significantly improved patient care. With the many benefits of wearable technology and mobile apps, consumers and healthcare providers find themselves divided over choosing one over the other.
A growing number of patients are quizzing their doctors about which healthcare apps and wearable technology they should be using. With the popularity and prevalence of both technologies set to increase over the coming years, doctors are going to have to decide if these will be something they'll recommend to their patients. It can be a tough decision, but here are a few of the issues one needs to take into consideration before making a choice.
What devices/operating systems do you feel comfortable with?
The sudden expansion of the mobile apps and wearable technology market left many healthcare professionals out of the loop. A lot of doctors are apprehensive about making recommendations without knowing the ins and outs of how something works, and this is why many of them are avoiding this subject with their patients.
To solve this dilemma, choose the operating system you prefer to use. If you use an iPhone, then download and test apps for iOS, not Android. It should be the same with wearable devices. Take a few out for a test drive and learn more about them. It's also possible to have your technology provider arrange a demonstration of these devices and explain how they work. This way, you have a general idea of what they can do.
Figure out the scope of your recommendations
One thing doctors notice when exploring the world of health apps and wearable technology is just how massive and varied it can be. If you're a specialist, it will be much easier to figure out which one to recommend to patients, but if you're a general health practitioner who covers a broader range of medicine, you might find yourself lost in a wide world of technology choices.
When it comes to wearable technology, it is a little easier to figure out the items patients will be interested in. However, when it comes to health apps, you need to be on your toes. Because their scope varies wildly from nutrition and medicine reminders to heart health and stroke prevention, you are going to want to focus your recommendations on the areas you feel comfortable with.
Talk to your patients
A lot of doctors don't speak with their patients about what mobile health apps or wearable technology they use or are thinking about using. But by talking to them, doctors will get a better idea of what their patients want from this technology. It also makes it easier for doctors to figure out what technologies they should be focusing on.
Ask a tech expert
Just because a particular piece of technology works great for you doesn't mean your patients will have the same experience with it. There are a lot of factors involved when it comes to wearable technology and mobile apps, and learning more about these will be important to you and your patients. Tech experts, like those on our staff, can properly assess technology in terms of security and other issues. There's nothing worse than recommending a technology that contains viruses or other problems for your patients.
If you want to recommend specific technology to your patients, get in touch with us first. We'll make sure your picks have a clean bill of health.
Published with permission from TechAdvisory.org.
Source.