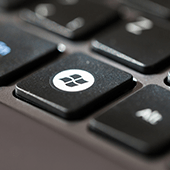 Microsoft announces new developments every month, but this is the biggest one yet. Several reports have found that Microsoft is developing a stripped-down version of the Windows operating system (OS) that will compete against Chrome OS. Here's a quick rundown of the new OS that's being called "Windows Lite."
What is Windows Lite?
Windows Lite is a more flexible, trimmed-down OS designed for casual, lightweight computing. This means users can expect shorter startup times, faster performance, and a less complex system. If it's trying to compete with the likes of Chrome OS, then it's possible that Lite will have syncing features that save your preferences, files, and settings across your personal devices.
Windows Lite will initially be tied to a series of devices Microsoft has called Centaurus and Pegasus. The former refers to dual-screen, notebook-like devices, while the latter denotes compact laptops specifically designed to run the OS.
From a design perspective, the OS won't stray too far from the familiar taskbar and start button layout to avoid making the same mistakes as Windows 8. Also, users should expect somewhat limited windowing and multitasking features in Lite like in Chrome OS and other mobile operating systems. Due to this, tabs in Windows programs will likely be a common feature.
Experts speculate that Windows Lite could be announced as early as the second half of 2019. It may even have a different name by the time it's officially announced.
What does this mean for businesses?
Windows Lite may not have the features for heavy-duty computing, but it does have all the features required to work remotely. For starters, the OS has deep integrations with Office 365 apps, which provides users with Word, Excel, Outlook, and Teams. The OS also works with other cloud-based applications, including your favorite video streaming apps and social networking sites.
Lite's minimalistic and cloud-oriented features also make it much easier to manage, especially when compared to remote Windows 10 devices. All in all, the OS may significantly grow in popularity as more businesses rely on the cloud and adopt remote working policies.
Keep in mind that these are early reports about the new OS, and they must be taken with a grain of salt. Microsoft will probably add even more features down the road, which is why it's crucial to follow our blog on the latest Microsoft developments. In addition to providing news and tips, we're also experts in managing various Microsoft products, so call us today if you need expert IT support!
Published with permission from TechAdvisory.org.
Source.