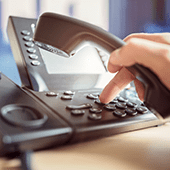 Voice over Internet Protocol (VoIP) telephony systems are great for today's businesses. They're more mobile with greater functionality and better cost efficiency versus traditional landline phones. But as with any technology, VoIP is vulnerable to disruptions due to equipment failure, disasters, and cyberattacks. Plan ahead and make sure your VoIP can weather any breakdown.
Invest in VoIP monitoring services
Before implementing any disaster recovery solutions, install a third-party VoIP monitoring service to keep tabs on the status of your phone system. This will identify all network issues disrupting your phone system, so you can resolve them quickly.
Choose your VoIP provider wisely
When evaluating VoIP systems, you must verify your provider's service-level agreements. Ask them about their security and availability guarantees, and how they're able to achieve them.
Whomever you partner with, be sure they host your VoIP systems in facilities that are safe from local disasters. Your provider should also use advanced network security services to protect your calls.
Have a backup broadband line
Because VoIP solutions are dependent on internet connections, you should have a backup or alternate internet service in case one network goes down.
Ideally, one internet service provider (ISP) will be dedicated to your VoIP service, while another supports your main computer network. Once you've installed both networks, you can then program them to automatically transfer services to the other should one network fail. Thus, if your main phone network goes down, your VoIP solution switches to the other network so you can keep working.
Of course, subscribing to two separate ISPs will increase your internet expenses, but the cost to maintain both is far less than the cost of significant downtime.
Route calls to mobile devices
With a cloud-based VoIP solution, you can choose where to receive your calls with call forwarding — a feature that automatically reroutes incoming calls to other company-registered devices. If your main office is hit by a local disaster or network outage, your employees can continue working from their mobile devices as if nothing happened.
To benefit from this feature, make sure to register all employee mobile devices to your VoIP system and configure such devices to receive rerouted calls.
And don't forget to set policies for remote working. You should have rules that forbid staff from connecting to public WiFi networks, as this can put them at risk of VoIP eavesdropping.
Test your plan
There's little value in a VoIP continuity plan if it isn't tested on a regular basis. Test your VoIP service and check whether contact details are up to date, call forwarding features are routing calls to the right devices, and your backup internet service works. Ultimately, your goal is to find flaws in your VoIP recovery strategy and make necessary adjustments to avoid them from occurring in the future.
If managing VoIP is too time-consuming and complex, call our professionals today. We design, implement, and test a powerful, disaster-proof VoIP phone system to ensure your communications are always online.
Published with permission from TechAdvisory.org.
Source.